Update: January 18, 2023
As we start 2023, we are looking back on a terrific first year of our opening to the public in March. Our members create our successes and help us get through challenges together as a Collective – thank you for all your support this year!
Here are just a few highlights that you helped make possible:
When 2022 began, the space we now know as the Sanctuary of the Silver Ball was full of medical boxes. There was barely room to walk, much less work. The walls were white and the carpet was a mess. We had no way to be sure how many games would fit comfortably into the space. And honestly, while we believed we had something magical, we had no real certainty that people would show up.
Over the next two months, members & friends completely transformed that room: we painted, covered the windows, cleaned the carpet (still not perfect), completely re-wired the electrical system (thank you, John McConnell), installed a refrigerator, a stereo & a security system. We had a logo designed & got artwork donated (thank you, Steph Hanlon). And we talked to everyone we knew to lend us games for opening day (thank you, game donors).
We opened the Collective to the public in March, and hundreds of people came to check out the Sanctuary of the Silver Ball during opening weekend.
Our collection grew, changed, and expanded over the last nine months, starting with 17 games when we opened and increasing to our current 24 games in the space. So far this year we've had more than 2900 games played at the Collective!
Our most recent additions are Jersey Jack's Willy Wonka & The Chocolate Factory (LE), which joined the lineup in November, and Bally's Freedom, which we acquired shortly before Christmas. We're looking ahead to bringing in new and different machines of all eras in 2023. Check our information on Sharing Your Games if you're interested in contributing your own game to the Collective!
Working to fulfill our mission of celebrating, nurturing, and expanding the pinball hobby, in all its forms, through education, service, and community, we've hosted a variety of events this year. Here's just a sampling :

We sent 22 machines, a booth, a team of volunteers, and brand new merch to the return of the Northwest Pinball & Arcade Show in June. Our space served as a transportation and storage hub numerous machines being lent to the Show, helping to support many collectors participating in a fun weekend.
In August our games were a hit at Emerald City Comic Con! We brought six machines to be shown and played as an exhibition event during the Con, sharing our Collective with thousands of attendees.
We've hosted dozens of events at the space, including:

Our Grand Opening weekend in March
A special summer Pizza Party and tournament for our members
Special workshops on tech repair and flipper skills
30 Open Houses and Free Play opportunities for the public to check out our space
16 Tech Tuesday events for our expert volunteer techs to share their skills with others in cleaning, maintaining, and repairing our collection
14 tournaments, including our first IFPA recognized tournaments in November and December
3 tech seminars & repair parties with local experts (Dave "Dok" Okert, Victor Tan, Bill Witzel)

When we opened, the vibe was definitely "a room with a bunch of games in it". Over the course of the year, we've worked hard to push it toward "a cool place to hang out". We've expanded the "lounge" space, acquired a unique couch, upgraded the stereo, added a bunch of artwork and made it easier to hang and installed a projector & screen.
We are extremely proud of all we accomplished during our first year, and look forward to continuing to provide a unique space for devotees of the silver ball.
============
Update: December 1st, 2021
We are the Northwest Pinball Collective, a non-profit organization dedicated to creating a shared space in North Seattle for the pinball community to come together, play games, share knowledge, and promote the pinball hobby.
Whether you're a casual player, a tournament champion, a collector, or "just a pinball fan", we invite you to join us in bringing "The Sanctuary of the Silver Ball" to life!

NWPC aims to explore new territory beyond Seattle's excellent barcade scene – The Sanctuary will focus exclusively on pinball and pinball culture, as well as the needs of NWPC members and the pinball community at large.
==========
The NWPC board wants to update the community on our progress as we enter the next stage of our fundraising and quickly approach our grand opening.
THE SANCTUARY OF THE SILVER BALL
Our 1st round of fundraising has gone to good use as we make improvements to our space in north Seattle and expand our electrical capacity to handle all the pinball machines we'll be bringing in soon. We're also updating the lighting and making other cosmetic improvements. Next up is our security system, then the games, another handful of finishing touches, and we'll be ready to open!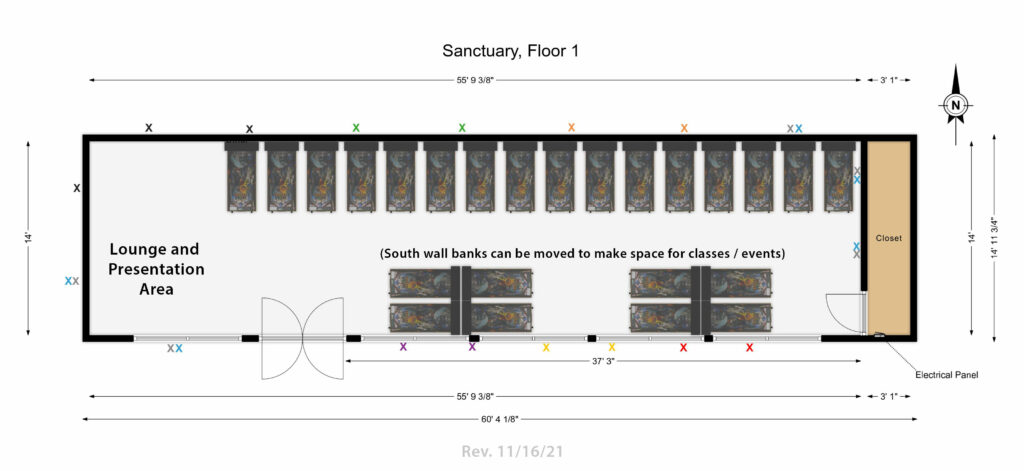 A huge THANK YOU goes out to all our initial Founding Members. For anyone else interested in getting a membership upgrade, a lifetime membership discount, cool swag, and tons of other perks, check out our Founding Member Benefits for contributors of $500 more. All Founding contributions can be applied to future membership dues.
We are well on track for our Feb 2022 opening date, but we still need the support of pinball enthusiasts like YOU to help us get over the finish line.
MEMBERSHIPS AVAILABLE NOW
NWPC is opening our next fundraising phase and offering substantially discounted membership packages (active upon opening of The Sanctuary) for purchase at NWPinballCollective.org.

These discounts are available for a limited time and make amazing holiday gifts for the pinballers in your life.
Membership sales at this early stage will be critical in getting the Collective off the ground and soaring. Join us!
EQUITY INITIATIVE MEMBERSHIPS
The NWPC is committed to fostering an inclusive culture around the pinball hobby. Our Equity Initiative attempts to lower financial barriers for membership in the Collective, allowing greater diversity within our community.
As the first stage of this initiative, we are able to offer a limited amount of reduced cost memberships to community members who wish to access our resources but lack the funds for membership. Find out more on our site.
WHAT'S NEXT?
Our space will be preview-ready soon and we'll be inviting the community to see it in-person. Once we're fully open we will be holding a grand opening party for all our members and contributors.
We welcome questions and comments (contact info below). We also hold community meetings on Zoom and in-person. Beyond membership, there are lots of ways to get involved with our Collective's mission.
Thank you for your partnership, and please feel free to forward this message to anyone you think might be interested. Happy Flipping!
The NWPC Board – nwpinballcollective@gmail.com
Chris Force (President)
Lauren Aquino (Vice President)
Algird Lisaius (Secretary)
John Garnett (Treasurer)
"Danger" Dan Morrison
From the NWPC Board: October 2nd, 2021
We are the Northwest Pinball Collective, a non-profit organization dedicated to creating a shared space in North Seattle for the pinball community to come together, play games, share knowledge, and promote the pinball hobby.
Whether you're a casual player, a tournament champion, a collector, or "just a pinball fan", we invite you to join us in bringing "The Sanctuary of the Silver Ball" to life!
Our future includes tournaments, repair parties, tech classes and plenty of fun, all centered around members' games–a compelling lineup of well-maintained games that we're proud to showcase.
It can happen this winter— February 2022 or even sooner, depending on how quickly we're able to raise our startup funds–and that's why we're reaching out to you. Your support will help us meet our $10,000 goal and open our space.
What will it take?
We already have a committed space with an awesome landlord who's excited to work with us. Your generosity will help the Collective begin build-out and commence operations of The Sanctuary of the Silver Ball.
Your partnership will enable us to:
Pay rent, utilities, insurance & other bills during build-out
Complete electrical work for game power distribution and updated lighting
Purchase parts and supplies necessary for operations
Fund a high-tech security and access system
What is in it for you?
There's a lot that we're still working out (opening date, how many games we'll have, which games, how they're laid out, event schedule, etc). We appreciate the faith it takes to donate to an organization in its infancy before the details are all sorted.

Your contribution of $500 or more thru January 1st will qualify you for "Founding Member" status, which includes an upgrade to your membership level and many other benefits.
All Founding donations can be applied to future membership dues.
We'll be throwing a pre-opening party for everyone who contributed along the way.
Happy Flipping!
The NWPC Board