Membership Plans and Benefits
All NWPC memberships include:
Access to 20+ free play pinball machines at The Sanctuary

Member Hours: 24/7 access

Entry to NWPC events

Tournaments, classes, workshops, socials, etc

Members may host guests at The Sanctuary

Member must be present with guests at all times

Sanctuary private bookings access

Bookings discount for Premium (10%) and L.E. (25%) members
Pro
$50 monthly, $47.50/mo quarterly, $45/mo annually
The Pro plan is our standard membership, allowing unlimited member access during business hours, as well as 2 free general-use guest passes per month.

Premium
$75 monthly, $71.25/mo quarterly, $67.50/mo annually
The Premium plan adds free guest access for persons in the same household, and includes 4 free general-use guest passes.

Limited Edition (L.E.)
$100 monthly, $95/mo quarterly, $90/mo annually
The L.E. plan is for the pinball-loving household: 2 keycards (assigned to specific members), plus household guest access and 6 free general-use guest passes. Add more household keycards for $25/mo/each.

Solid State
$25/mo (paid quarterly)
The Solid State plan is for the less frequent pinballer and has all the benefits of membership but with entry limited to 3 days per month. This offers significant savings compared to day-pass purchases and is also 1/2 the price of a standard Pro membership. Paid quarterly.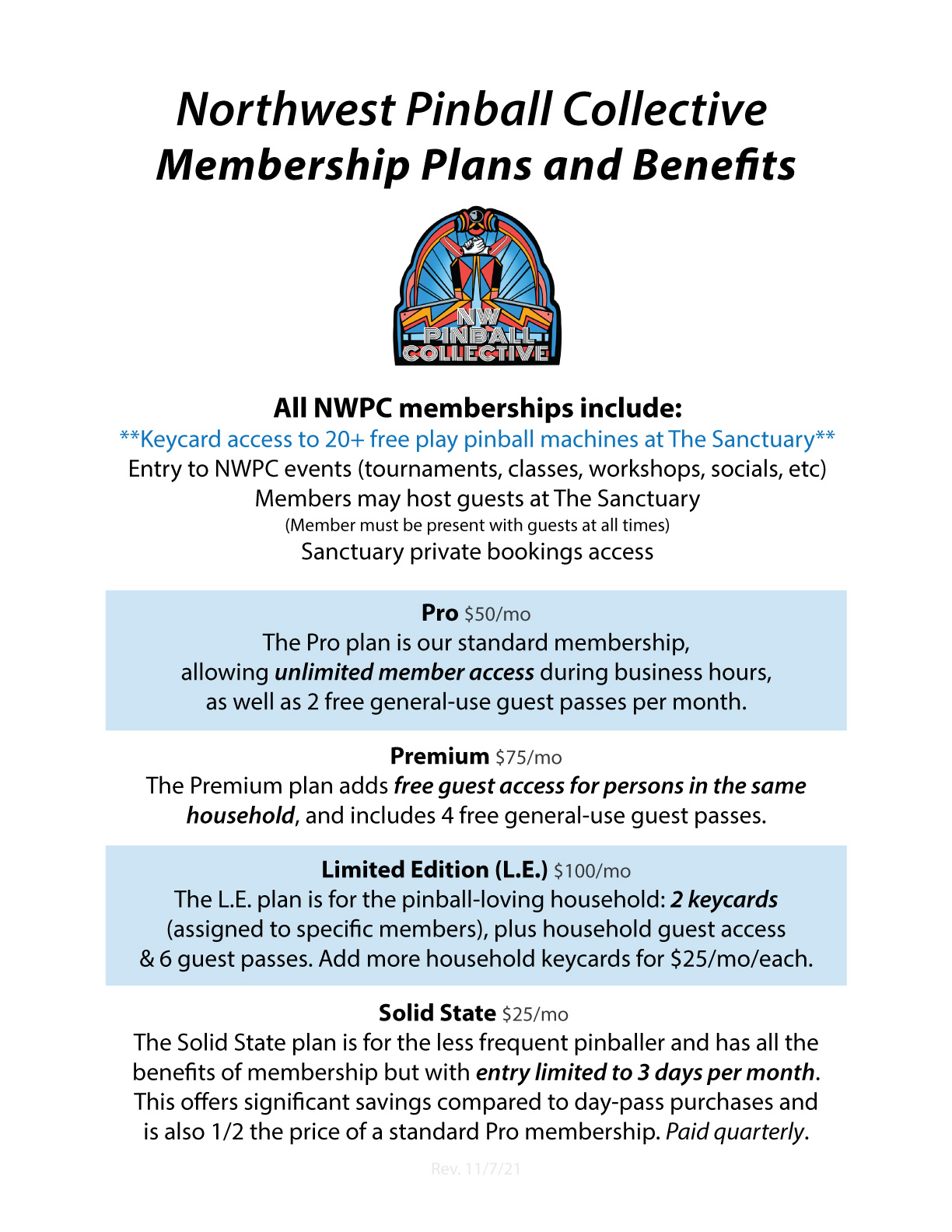 Requirements for NWPC Membership
Valid state / federal ID or passport

Alternative forms of ID verification may be accepted at board discretion

Valid COVID vaccination verification

Negative COVID test results are acceptable for guest entry, but NOT for members

Successful completion of NWPC new member orientation
Read and agree to NWPC Member Policies, Code of Conduct & Liability Waiver